The Ultimate Tulum Restaurant Guide
While where to eat in Tulum is somewhat an easy question to answer with a 10km stretch of beach full of appetizing open air restaurants, the list below may help narrow your choices.
Grilled steaks, the Argentinian way. With dishes cooked over blackened charcoal and finished over an open fire, the menu includes enormous cuts of steak (Will's flank steak came with two massive steaks, and yep he ate them both) homemade chorizo, lightly fried sweetbreads, all day roasted suckling pig and fresh fish caught that day.
In addition to a roaring grill, the restaurant serves amazing contemporary tequila and traditional cocktails made by their resident mixologist. *Beware Casa Banana are cash only and literally ZERO cash machines work in Tulum so come prepared. We didn't but luckily the wonder let us pay via PayPal the next day.
Tulum's best and most extensive restaurant for all dietary needs. The menu is entirely gluten, dairy, and refined sugar free. The dream for those unlucky like me with gut issues. There's a huge variety of vegan options alongside Mexican favourites made with meat, fresh, grilled and raw fish and even gluten free fried chicken. All tortillas, chips and batters are made from coconut flour so everything is bloat-friendly and alkaline. There's also one heck of a cocktail menu and intense smoothie, juice and tonic list with literally everything from fresh mint choc smoothies, bone broth, turmeric and house-made almond milk lattes to charcoal and post osmosis water shots.
The most interesting and progressive food that's happening in Tulum right now is at Arca, thanks to ex-Noma chef Jose Luis Hinostroza. Although not new to the food scene in Tulum, Arca has only recently started making bold menu choices to reflect its jungle surroundings. Highlights are a hefty bone filled with tamarind and pastilla flavoured marrow and a surprising tartare of roasted peppers with cured egg yolk and peppered ash.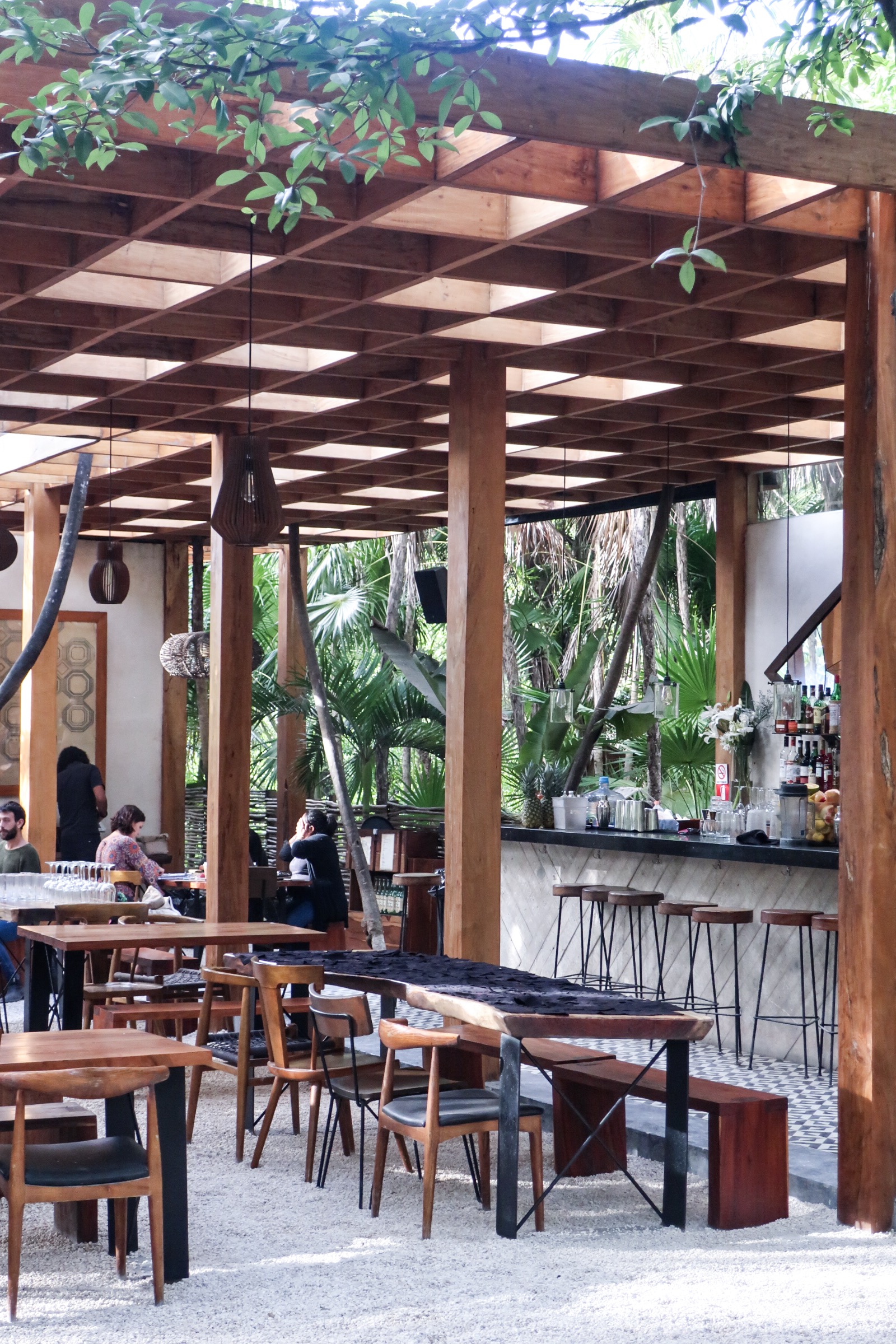 On the list as the most instagrammed place in Tulum, the adorable beach hut serves smothies, smoothie bowls, vegan ice cream and of course match in almost every form - and you can sit on an adorable swing while you drink it.
Probably the most progressive and creative mezcal-centric cocktail menu going. Gitano is a lush outdoor lounge with one long list of fruit-forward cocktails — majority of which incorporate Mexico's signature smoky spirit, mezcal.
While we didn't make it to Hartwood because we opted to spend out afternoon on the beach rather than queue up from 4.00pm for a table, if there's one restaurant almost every socialite-celeb-influencer type visits in Tulum it's Hartwood. Powered entirely by solar power, the restaurant was opened in 2010 by a couple from Brooklyn looking for the good life on this Mexican coast. Hartwood displays a chalkboard daily that lists the evening's dishes, most of which involve locally-caught fish, either simply grilled or prepared as raw.