The Ultimate Tulum Hotel Guide
Tulum on Mexico's east coast truly is a life changing place. Once a hippy backpacker hangout with dirt roads and no electricity, Tulum (while still sporadically lacking electricity) is now a tranquil nomadic town for those craving hedonism and balance all in a design led luxury spot on the Maya Riviera cost.

While Tulum is easy to get around, selecting from the abundance of incredible ecological hotels can be difficult, so to help you on your way below is the ultimate guide to some of the best hotels right on the beach.

THE EXTRAVAGANT

Be Tulum
Be Tulum is thought of as one of the most high end hotel on Tulum beach. Wandering in off the beach you'll find a village villas stacked like boxes with private pools immersed in jungle surroundings, natural sea worn wood furnishings, cowhide rugs, leather butterfly chairs and stand-alone bath tubs. While a standard room starts at £400, splashing out on the Aire Suite with a private rooftop pool offering a sea view will set you back £850per night.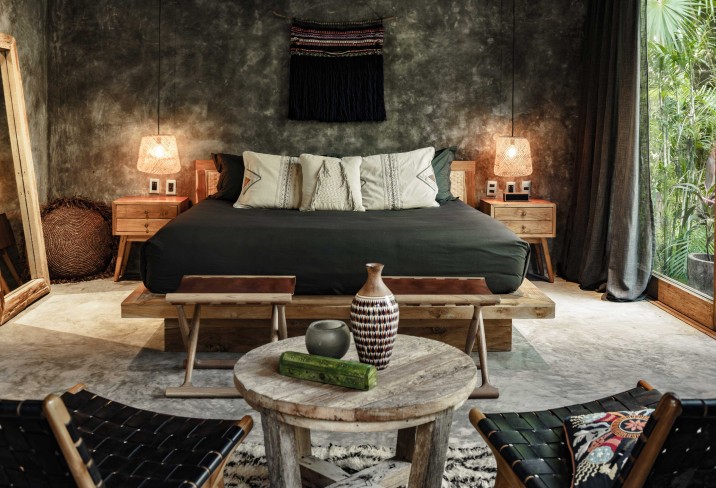 Sanara
White wash rooms with pristine monochrome furnishings and slick great concrete floors, Sanara is not only a beautiful hotel it's also home to the most Instagramable yoga studio in Tulum and the best gluten free, dairy free, grain free and refined sugar free restaurant on the beach, The Real Coconut. A delux double room with lush outdoor bath comes at around £700 per night.
Azulik Eco Resort and Mayan Spa
Genuinely unlike any hotel I have experienced, Azulik is an eco-resort built on stilts right above the Mayan Jungle. There are 48 wooden treehouses handmade exclusively from Mexican wood, each offering mosquito nets, custom made bath tubs, private decks with day beds and hammocks above the tree canopy. There is zero electricity, no phone and certainly no tv. With the opportunity to escape fully, the resort offers more than just a stay, to enhance the experience take an excursion to local villages and communes in the surrounding jungle, by the sea and to the lagoons and cenotes. While a night in a tree with no electricity from £400 - £3000 per night may seem steep, you can pay a visit to this utterly dreamy unique retreat to enjoy an avant garde tasting menu in the tree-top restaurant Kin Toh.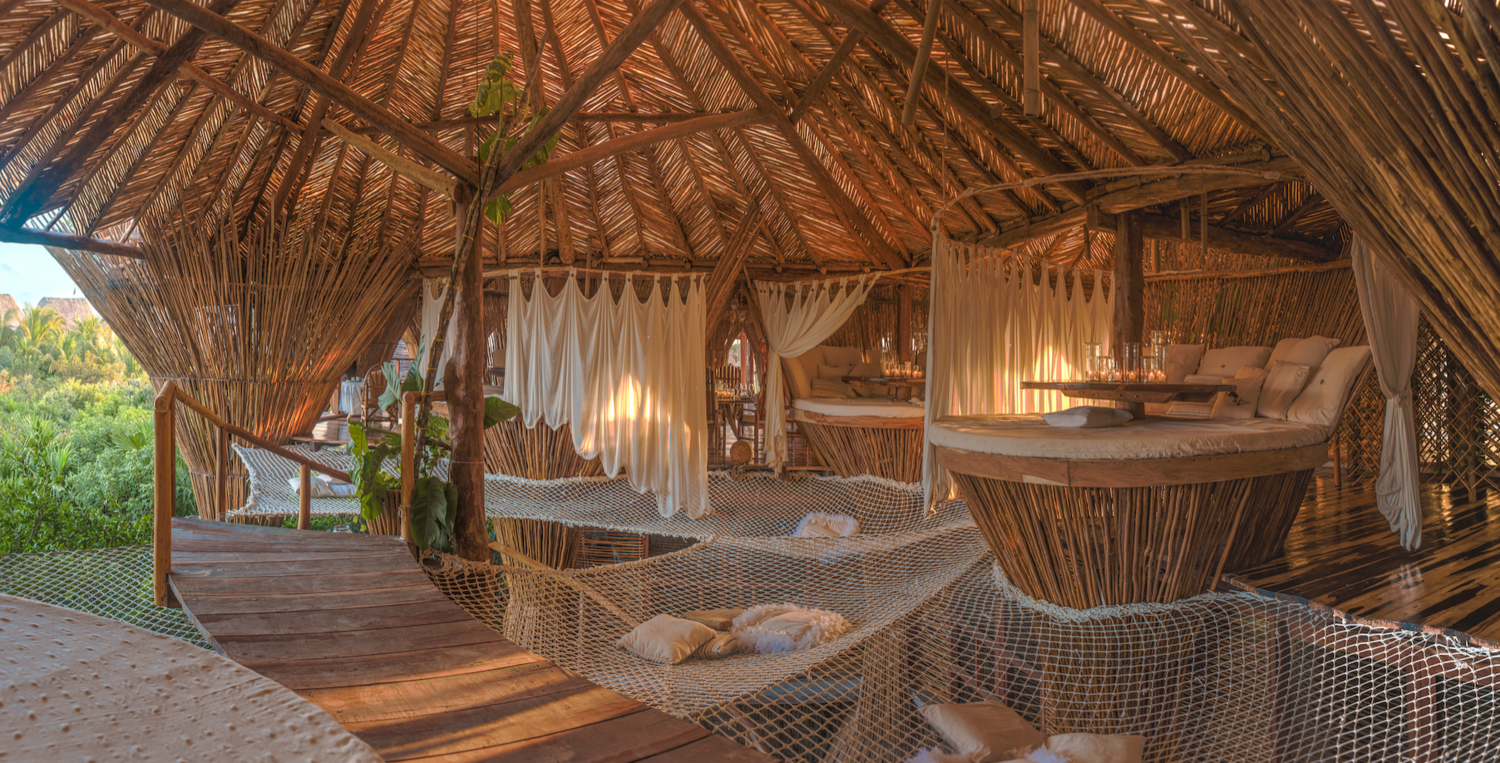 THE LUXURIOUS

Nomade
Nomade is the ecological little sister of Be Tulum, sharing the same design led and back to nature ethos. Nomade offers a luxury glamping spa retreat alongside standard rooms with outdoor showers. The two restaurants are famed by a vegan led, wholesome and holistic menu and the influx of hedonistic celebrities and influencers. The glamping option in a delux tent comes at £200 per night, or a standard with an actual roof over your head will cost around £300 per night.
Chiringuito Tulum
In an amalgamation of the stylistic whitewash stone villas of Greece and the wooden shades and monochromatic natives of Tulum, Chiringuito is a boutique hotel with only 13 rooms, half of which are two story offering rooftop terraces with blue and white woven lounges and private pools. The restaurant encompasses the same med-inspired menu with fresh Tulum style breakfasts alongside grilled seafood, ceviches and paellas in the evening. We spent two amazing nights in a jungle view room with private pool for around £300 per night. You can read my full review of Chiringuito here.
THE ECO FRIENDLY

Nativus Glamping

Nativus is a glamping retreat with luxury Berber tents, luxurious facilities, outdoor bathrooms and a private pier over a natural Cenote. A delux tent comes at around £80 per night making glamping one of the best options for travellers visiting Tulum on a budget.
For more hotel recommendations in Tulum, which quite frankly couldn't fit in this post, check out the full review of where we stayed, Chiringuito Tulum.